Garbage
The Agency accepts garbage, including furniture, from Linn County residents and businesses at 1954 County Home Road, Marion, Iowa for a fee. Always stop at the scale first.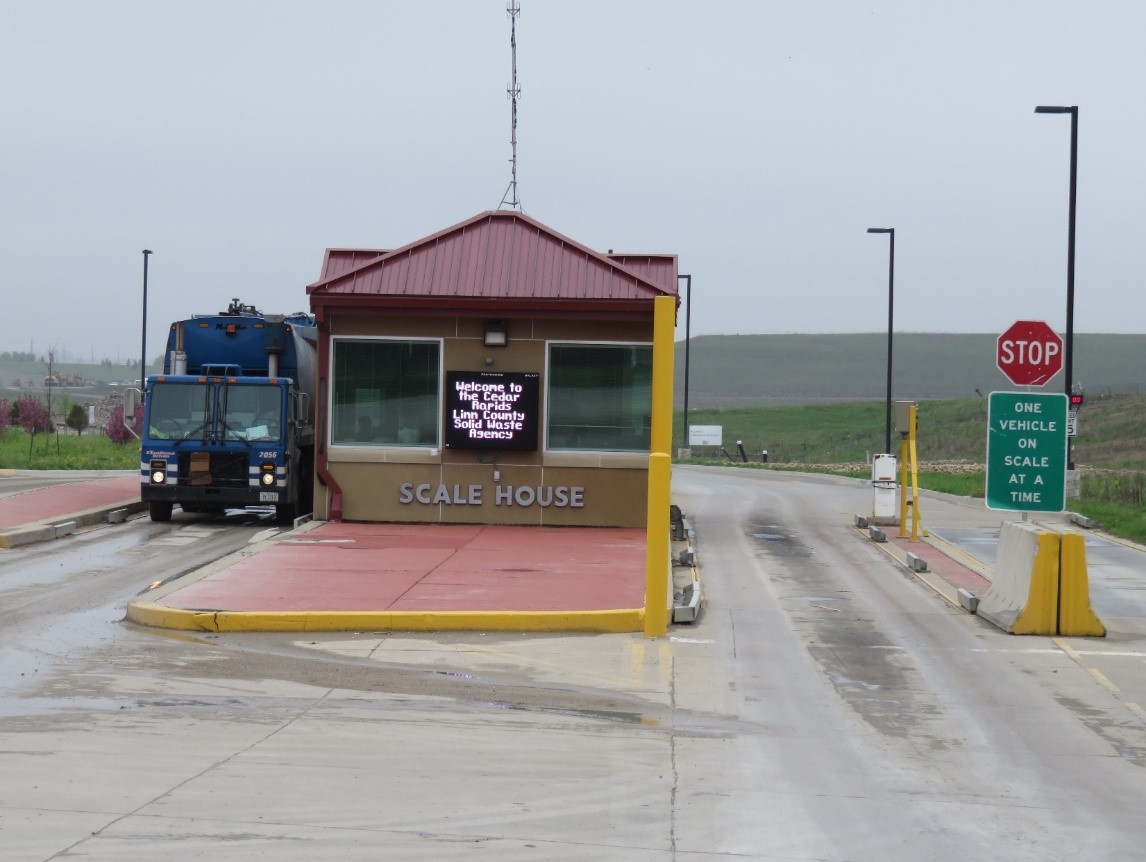 $10.00 flat-fee for car/SUV/minivan
$20.00 flat-fee for pickup/full-size van
$40.00 per ton for weighed loads ($20.00 minimum charge)
$10.00 fine for residential uncovered or unsecured loads
$25.00 fine for trailer, commercial uncovered or unsecured loads
Tipping fee doubles for loads containing cardboard or banned materials
All loads must be covered and secured or will be fined. Residential vehicles can unload garbage at the convenience area. Commercial loads and municipal garbage trucks will be directed to the landfill.

All customers are required to follow staff instructions while on-site. Staff may not always be immediately available and are prohibited from using agency equipment to unload vehicles.
Stop at the scale upon arrival. Identify the items you want to discard to the scale attendant. The attendant will direct you where to go for disposal.

If your load is weighed, you are required to stop back at the scale after disposal. The scale attendant will weigh your vehicle again and determine any fees due.

The Agency accepts cash, credit cards and business checks.
Not all waste can go into the landfill. Some materials are banned at local, state and federal levels. Other items must be delivered before certain times. Visit the Restrictions page to learn more. Banned items include:
Cardboard
TVs & monitors
Fluorescent bulbs
Hazardous materials
Yard Waste
Items that must be delivered before a certain time include:
Shingles (hand-unloaded shingle loads must arrive before 3:00 p.m. or will be rejected)
Railroad ties & telphone poles
Mattresses - bulk loads with multiple mattresses
The Agency accepts both non-friable and friable asbestos. Delivery conditions and packaging requirements apply. If you have asbestos to dispose of visit the Asbestos page for detailed instructions.
If your business or facility generates non-hazardous industrial waste, written approval and special handling may be required. Visit the Industrial & Special Waste page if you need to dispose of waste that is:
Dusty, odiferous, or voluminous
Potentially regulated or caustic

To ensure staff and public safety and to comply with permit regulations, the Agency reserves the right to declare any waste a special waste. Generators and haulers must have prior written approval from the Agency before disposing of a special waste in the landfill.
Donate Still Usable Items
Have unwanted furniture, mattresses, or household goods that someone can use? Consider donating those items instead of landfilling them. There are several local donation options.
Central Furniture Rescue is a local volunteer non-profit that provides furniture and household items at no cost to individuals and families who are transitioning out of homelessness and into their own places to live. Their contact information can be found HERE.
You may also consider contacting the Salvation Army or Goodwill of the Heartland to see if they will accept your items. Remember, they are not a garbage dump. If your items are stained, torn, dirty, broken, they will not take them. Bring those items to the landfill. Gently used items that you do not need or have space for, donate those!