Trails Are
Partially Open
For access on Saturday, September 14th - Mount Trashmore will be hosting the Trashmore 5K. You can sign up at - www.trashmore5k.com
Trail Access Hours:
Wed: 2:00pm - 7:00pm
Fri: 10:00am - 5:00pm
Sat: 12:00pm - 5:00pm
Sun: 8:00am - 12:00pm
Trails will be closing at 7:00pm on Wednesday nights in September due to darkness.
Please remember that access will be limited to posted hours. This is a regulated & permitted landfill and safety is our number one priority.

Weather and trail conditions will determine access.
Location:
2250 A Street SW, Cedar Rapids
What You Need to Know
The Trashmore trails and overlook are open for the 2019 season. We will have the trails open more on a set schedule (see Trail Access Hours to the left), weather and construction permitting.
Thanks to everyone who has visited Mount Trashmore! There will be site improvement work going on throughout the year in 2019, including a new gate entrance for walkers and bicyclists, a separate path leading to the trails for walkers and bicyclists, a new check-in point with restrooms, a water fountain, and a new parking lot. These improvements will not all happen at once, but we will work to make sure your trail experience is fun and safe!
Please remember, the closed landfill is a regulated and permitted site. The Solid Waste Agency's goal is to provide access with safety as a priority. This is not a public park. The trails are built on top of a closed and capped landfill. Please enjoy the view, have fun, and be safe!
Please be aware and follow the rules.
Stay on trails! Off-trail use is prohibited.
The Solid Waste Agency is not responsible for injury or damaged equipment. Use trails at your own risk.
Trail use is prohibited when gates are closed. Both A Street SW entrance gate and/or trail head gate. Trespassers will be prosecuted.
Dogs are allowed but must be leashed.
Limited parking onsite. Park in designated areas.
All trail users (bikers & walkers) MUST CHECK-IN at tent by trail entrance.
Bike helmet use is strongly recommended!
There are stairs on the Stumptown Trail; strollers can only be used on the Overlook Trail.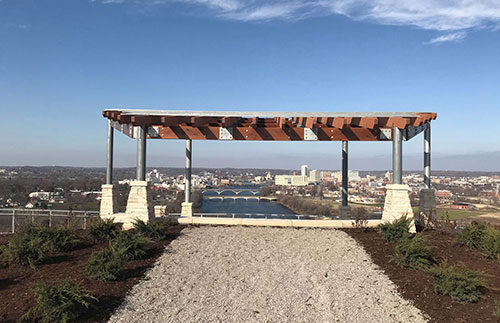 No driving to the top of Mount Trashmore. It is a trail, not designed for vehicles.
No smoking & no alcohol.
There are no lights on the trails or at the overlook.
Due to time constraints, walkers will need to be on trails 30 minutes before closing time.
2 inch or wider tires are recommended for Trashmore Trail.
Watch for truck traffic! Trails are adjacent to an operational compost facility with a shared entrance and roads.
Trails & Overlook Recreation Coordinator
Zac Hornung is the Recreation Coordinator for the Mount Trashmore trails and overlook. Zac coordinates public access to the trails and overlook, manages the trail system, scenic overlook activities, and promotes the unique site throughout the community.
Zac is the contact for tours and event requests at the Mount Trashmore trails and overlook. Interested in volunteering with the trails? Give him a call at 319-377-5290 ext. 123 or send him an email.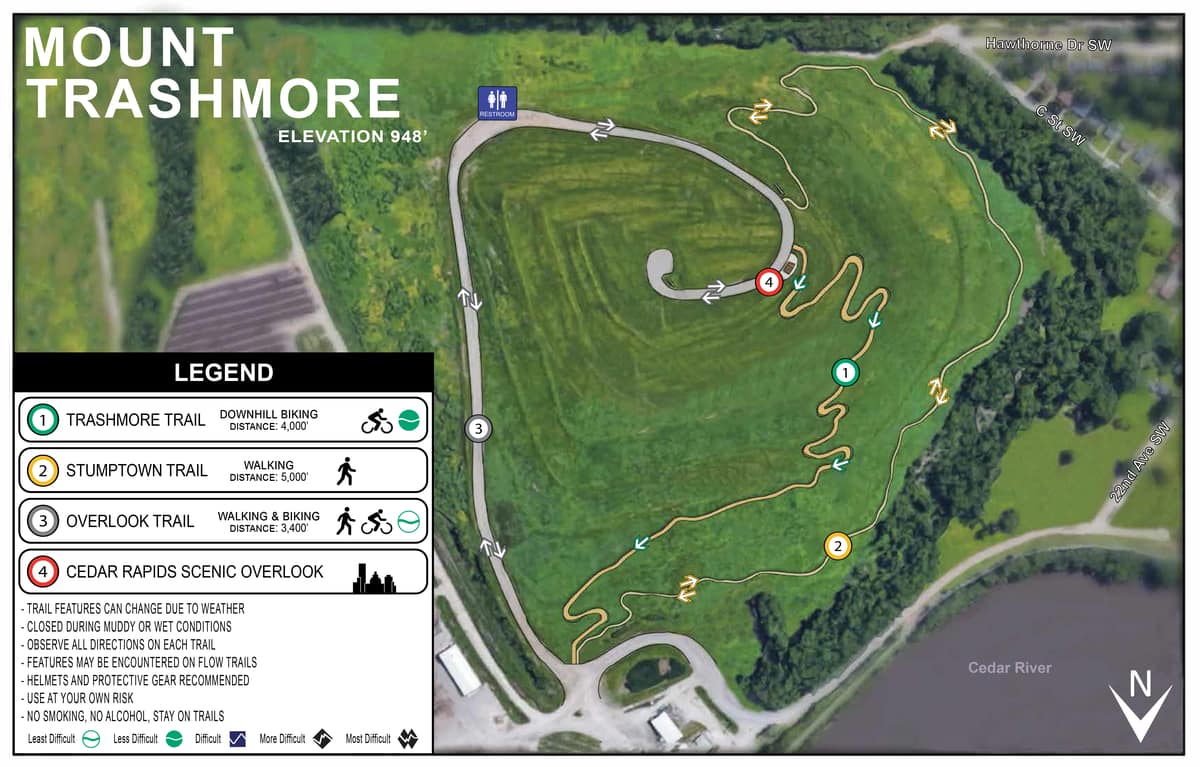 No driving to the top of Mount Trashmore (visitors with a handicap placard are allowed to drive to the top).